Tropical Storm Nicole – Update 5 – 11/10/2022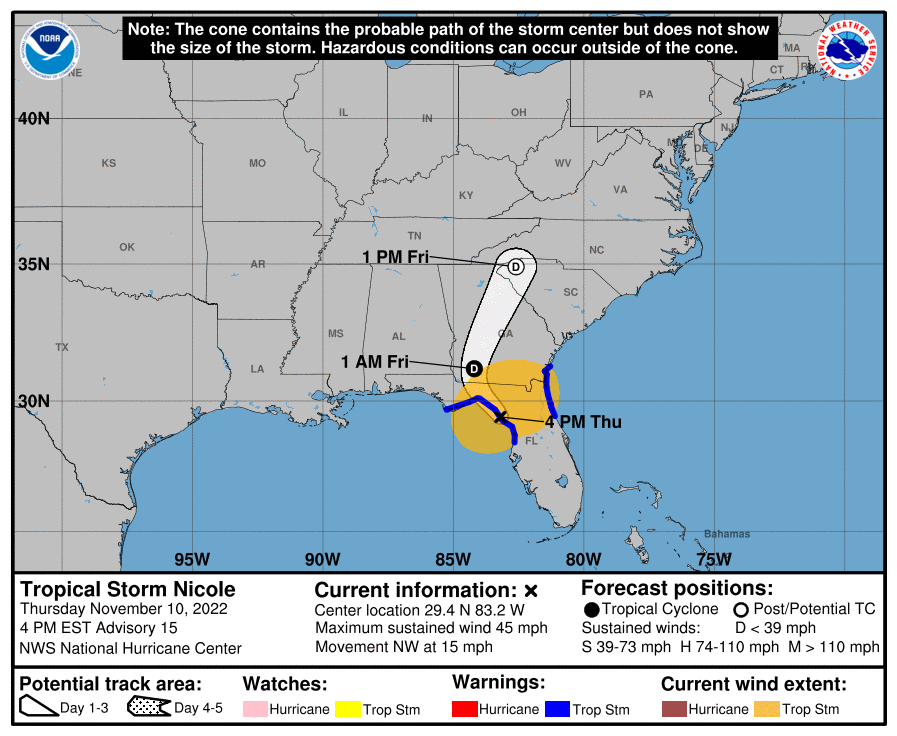 University of Florida officials are actively monitoring Tropical Storm Nicole. Here is what we know today:
Alachua County, which includes Gainesville, remains under a Tropical Storm Warning as of the 4 p.m. advisory of the National Hurricane Center.
The center of Nicole had made its way to the northwest coast of Florida as of Thursday afternoon. The storm is expected to continue to move north into Georgia and the Carolinas by Friday. However, tropical storm conditions are expected to continue into tonight in many areas of Florida, including Alachua County where winds are ranging between 25 and 35 mph with gusts of up to 60 mph.
It is important to continue to remain indoors during the storm and to use caution when traveling or outside. Avoid any flooded areas, downed trees and other hazards that may not be easily visible at night.
Students who live in residence halls should visit the Florida Fresh Dining website for information regarding hours of operations of the select dining locations open during the storm.
The UF Gainesville campus remains closed on Thursday. Online and in-person classes are canceled as well. The university expects to resume holiday campus operations on Friday, Nov. 11. However, the university will remain closed for business and classes on Friday in honor of Veterans Day.
Essential employees should check with their supervisors regarding scheduling. UF Health and UF/IFAS personnel and others at locations throughout the state should follow their local government's guidance and check with their supervisors for information regarding the operations plan of their work locations.
We will continue to monitor and update the UF community on continued impacts and schedule changes as information becomes available.  Regularly check https://updates.emergency.ufl.edu/ and https://www.ufl.edu/ for updates.
For additional information, please visit National Hurricane Center.
Additional information:
UF campus operations closure
UF campus services and events updates
Commonly asked questions regarding UF campus closure
Here's how to prepare for hurricane season
Pre-storm preparation for students in UF housing
UF/IFAS Disaster Preparation & Recovery