Tropical Storm Nicole – Update 4 – 11/10/2022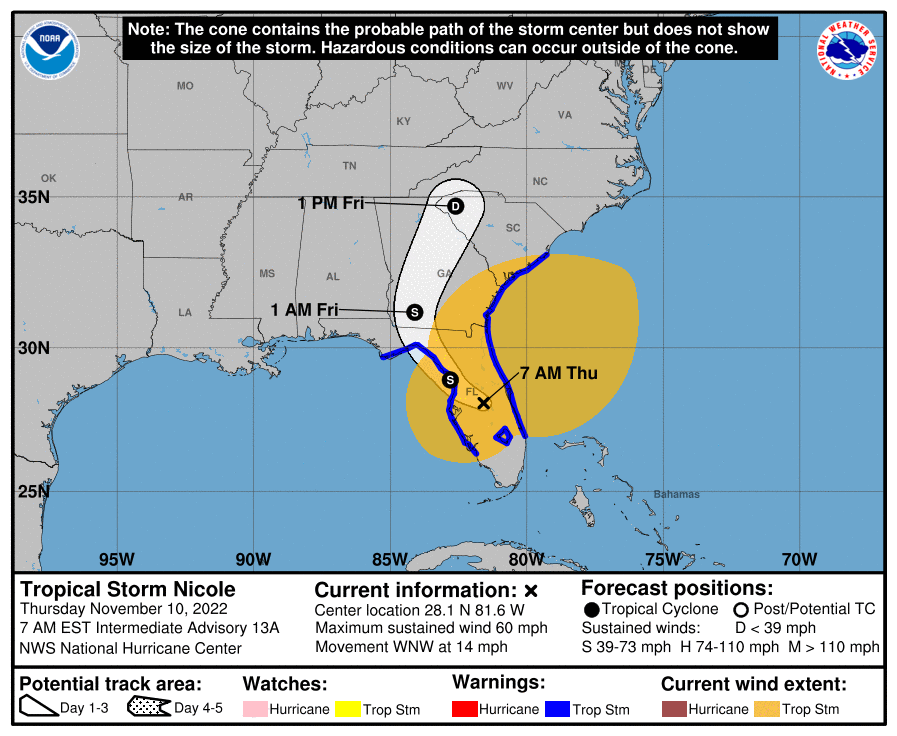 University of Florida officials are actively monitoring Tropical Storm Nicole. Here is what we know today:
Alachua County, which includes Gainesville, remains under a Tropical Storm Warning as of the 7 a.m. advisory from the National Hurricane Center. Forecasters said Nicole has the potential to bring winds of 40 to 50 mph, with gusts of up to 70 mph, to Alachua County.
Additionally, 1 to 3 inches of rain is expected in the area, and conditions are favorable for the "occurrence of scattered tornadoes."
Overnight, the center of Nicole made landfall just south of Vero Beach as a Category 1 hurricane with sustained winds of 75 mph. Nicole has weakened since to a tropical storm. Though the storm's center is making its way over Central Florida this morning, Alachua County is already experiencing strong winds and gusts.
It is important to stay indoors during the storm. Students who live in residence halls should be cautious when walking to dining halls. Select Florida Fresh Dining locations are open during the storm. Visit for the Florida Fresh Dining website for more information regarding the hours of operations of those locations.
The center of Tropical Storm Nicole is expected to make its way across the state before moving northward Thursday night into Friday morning and into southeast Georgia. Tropical storm conditions are expected to continue in Alachua County through tonight.
Classes at the Gainesville campus have been canceled, and offices will remain closed on Thursday. Online classes are canceled as well. The university expects to resume holiday campus operations on Friday, Nov. 11. However, the university will remain closed for business and classes on Friday in honor of Veterans Day.
Essential employees should check with their supervisors regarding scheduling. UF Health and UF/IFAS personnel and others at locations throughout the state should follow their local government's guidance and check with their supervisors for information regarding the operations plan of their work locations.
We will continue to monitor and update the UF community on continued impacts and schedule changes as information becomes available. Regularly check https://updates.emergency.ufl.edu/ and https://www.ufl.edu/ for updates.
For additional information, please visit National Hurricane Center.
Additional information:
UF campus operations closure
UF campus services and events updates
Commonly asked questions regarding UF campus closure
Here's how to prepare for hurricane season
Pre-storm preparation for students in UF housing
UF/IFAS Disaster Preparation & Recovery