Hurricane Ian – Update 7 – 9/28/2022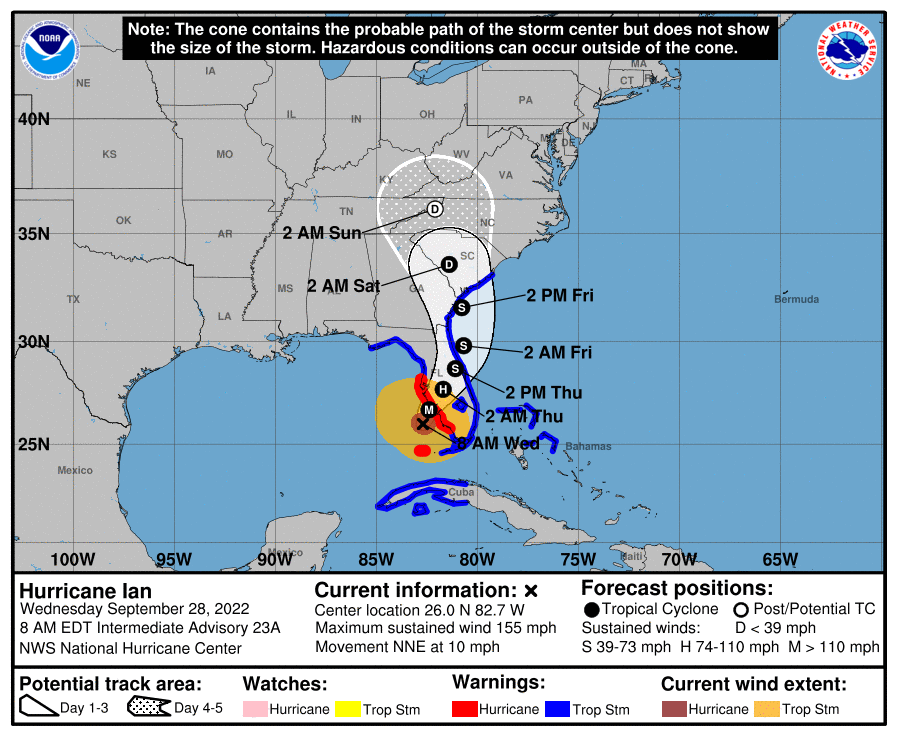 University of Florida officials continue monitoring Hurricane Ian. Here is what we know today:
Hurricane Ian has strengthened into a dangerous Category 4 storm, according to the Wednesday, 5 a.m. advisory of the National Hurricane Center. It is expected to move onshore along the coast of Southwest and West Central Florida later this morning and to turn north on Thursday. Weakening is expected after landfall.
Computer models show the storm moving at a slower pace. As a result, tropical storm winds are expected to begin Wednesday night and early Thursday morning across Northeast and North Central Florida, which includes Alachua County.
As Wednesday progresses, rain chances will increase in North Central Florida. The weather will continue to deteriorate into tropical storm conditions Wednesday evening through Friday, according to forecasters at the National Weather Service office in Jacksonville.
Meanwhile, a hurricane warning has been extended southward from the Anclote River in Pasco County to Chokoloskee, which is south of Naples. The warning includes the Tampa Bay area. Hurricane-force winds are expected in the warning areas later today.
Additionally, the National Hurricane Center expects life-threatening storm surge "along the Florida west coast and the Lower Florida Keys where a storm surge warning is in effect, with the highest risk from Naples to the Sarasota region."
UF units should continue to monitor forecasts and follow guidance from local officials.
The University of Florida campus in Gainesville will be closed Wednesday, Sept. 28 through Friday, Sept. 30. Only essential university personnel should report for work during that time.
The university expects to reopen and resume classes and normal campus operations on Saturday, Oct. 1.
We will continue to monitor and update the UF community as Hurricane Ian makes its way over the Florida peninsula. Regularly check https://www.ufl.edu/ for updates.
For additional information, please visit National Hurricane Center.
Additional information:
UF classes canceled Wednesday – Friday
Commonly asked questions regarding UF campus closure
Here's how to prepare for hurricane season
Pre-storm preparation for students in UF housing
UF/IFAS Disaster Preparation & Recovery
This story was posted at 8:20 a.m. on Wednesday, Sept. 28.