Subtropical Storm Nicole – Update 2 – 11/8/2022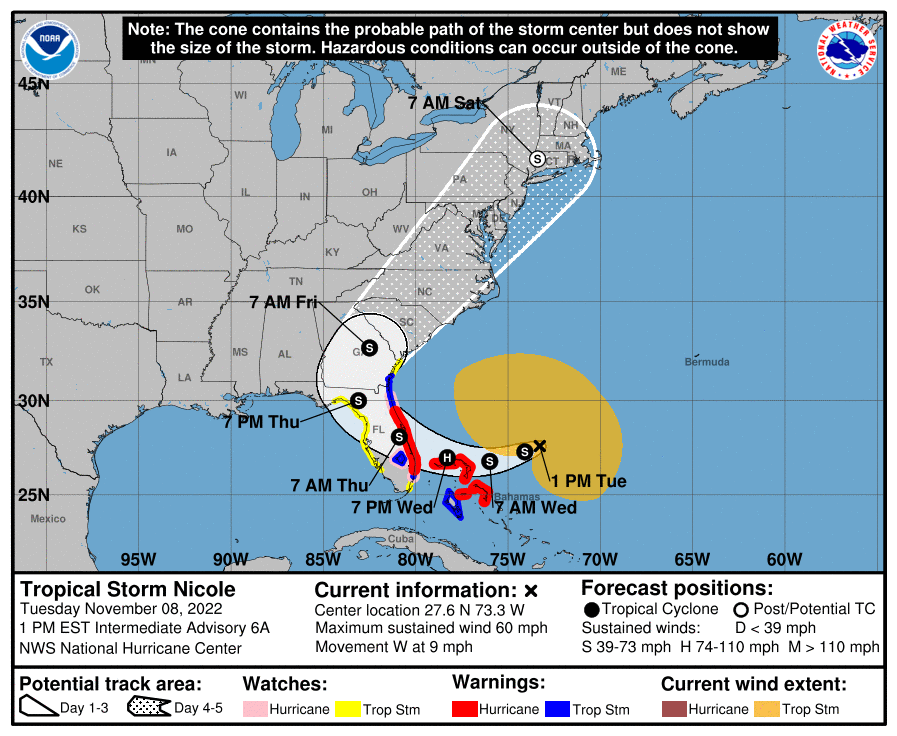 University of Florida officials are actively monitoring Subtropical Storm Nicole. While much remains unknown about the storm's path, here is what we know today:  
On Tuesday, the National Hurricane Center issued a Hurricane Warning for the east coast of Florida, from Boca Raton to the Flagler-Volusia county line. Additionally, a Hurricane Watch has been issued from the Flagler-Volusia county line to Ponte Vedra Beach. 
Meanwhile, much of the Florida peninsula is either under a Tropical Storm Watch or a Tropical Storm Warning, as details regarding Nicole's exact path and intensity could fluctuate between now and landfall. Alachua County, which includes the UF Gainesville campus, was placed under a Tropical Storm Watch on Tuesday.   
Forecasters have made note of the storm's size; tropical storm-force winds extend from the storm's center outward up to 380 miles. As a result, UF units should continue to monitor forecasts and be prepared to follow guidance from local officials.  
When a Hurricane Warning is issued, it means that hurricane conditions are expected somewhere within the warning area typically within 36 hours of the anticipated first occurrence of tropical-storm-force winds, according to the National Hurricane Center. A Tropical Storm Warning means that tropical storm conditions are expected somewhere within the warning area within 36 hours. 
Subtropical Storm Nicole is expected to strengthen during the next 36 to 48 and reach hurricane intensity sometime Wednesday or Wednesday night as it crosses through the Bahamas and on toward the southern Florida peninsula. 
During the 10 a.m. discussion, forecasters from the National Weather Service in Jacksonville said tropical storm-force winds of 45 to 55 mph with gusts of to 70 mph could begin early Thursday in Alachua County and last until Thursday evening. Average rainfall could range between 2 and 4 inches but could be higher in some areas.  
No operational changes have been announced for the UF campus in Gainesville as of this message. We will continue to monitor and update the UF community on expected impacts or schedule changes as information becomes available. Regularly check https://updates.emergency.ufl.edu/ and https://www.ufl.edu/ for updates. 
For additional information, please visit National Hurricane Center.  
Additional information:  
Here's how to prepare for hurricane season  
Pre-storm preparation for students in UF housing